These eye-catching chocolate, banana and peanut treats are well worth looking out for.
Peanut Butter Bats Eyes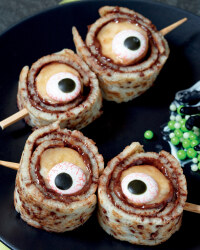 Recipe Information
Ingredients
1 Super Soft Wholemeal Wrap
45g Smooth Peanut Butter
45g Nutoka
1 Banana
6 White Chocolate Buttons
6 Dark Chocolate Chips
6 Wooden Skewers
The Pantry Red Food Colouring (Optional)
Method
Lay the wrap flat.
Spread the peanut butter on the wrap, then spread the Nutoka over the top.
Peel the banana and place on top of the wrap.
Roll up, cut into six slices and discard the ends.
Fasten two of the eyes together with the skewers.
Use a little Nutoka to stick a chocolate chip on each of the chocolate buttons to make the eyes.
Use a little peanut butter to stick the eyes on the banana slices.
For an extra spooky effect, use a cocktail stick and small amount of red food colouring to paint veins on the eyes!