Enjoy this healthy vegan dinner recipe taken from RTE's Operation Transformation
Peanut & Sweet Potato Curry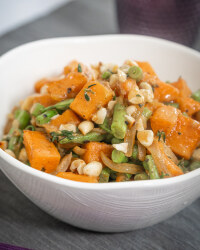 Recipe Information
Ingredients
1 small onion
300g sweet potatoes
2 garlic cloves
300g green beans
handful natural skinned peanuts (25g)
1 tbsp rapeseed oil (15g)
1 tsp dried thyme
1 tsp sweet paprika
160g tin coconut milk
200ml water
sea salt and freshly ground black pepper
Method
Peel the onion, then cut in half and thinly slice. Peel the sweet potatoes and cut the flesh into dice. Peel and crush the garlic. Trim the green beans and cut into 1cm pieces.
Heat a wok or large frying pan over a medium to high heat. Dry roast the peanuts, tossing regularly until evenly coloured. Tip on to the chopping board and once they have cooled down, finely chop. Set aside.
Add the oil to the wok and swirl up the sides. Tip in the onion and stir-fry for 2-3 minutes. Add the garlic and stir-fry for another 30 seconds. Stir in the sweet potatoes and the sprinkle over the thyme and paprika. Cook for another minute.
Pour in the coconut milk with the water and bring to a simmer. Reduce the heat and simmer for 8-10 minutes until the sweet potatoes are almost tender.
Stir in the green beans and season lightly with salt, if using and pepper to taste. Continue to simmer for 2-3 minutes until the beans are tender but still holding their colour and the curry is piping hot.
Divide the curry among bowls and scatter over the chopped peanuts to serve.
Alternatively, the flavour of this curry will only improve the longer it is kept. Simply cool and put into separate suitable airtight containers within 2 hours of cooking. Keep in the fridge for up to 3 days until needed, then reheat in the microwave once or in a saucepan on the hob over a gentle heat.