For the perfect light and easy lunch, whip this recipe up in just 15 minutes.
Parma Ham Croustades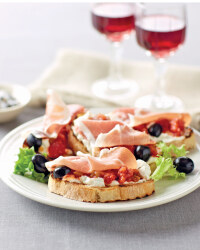 Recipe Information
Ingredients
4 x slices Ciabatta Bread
2 x slices Parma Ham
50g Soft Cheese with Garlic and Herbs
50g Tomato Salsa
6 x Black Olives - cut in half
Salad Leaves to serve
Method
Griddle or toast the slices of Ciabatta (no need to bake first).
Spread the toasted bread with the soft cheese, then top with the salsa, fold over half a slice of Parma ham on each slice, then decorate with the black olives.
Serve with some salad leaves.