Crispy pancetta slices wrapped around tasty onion rings. Perfect party food.
Pancetta-Wrapped Onion Rings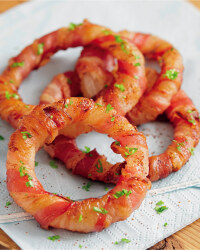 Recipe Information
Ingredients
2 large Onions
2 100g packs Pancetta Slices
30g Honey
1 tsp Paprika or Chilli Powder
Fresh chopped Parsley to decorate
Method
Pre-heat the oven to 200°C/400°F/Gas Mark 6.
Line 2 baking trays with some greaseproof paper.
Peel the onions, cut into 1cm slices and separate into 2 ring sections. Use the large rings – use the remainder in soups or salads.
Take a slice of pancetta and wrap it around the onion, just slightly overlapping. If needed, use half of another slice to finish wrapping the onion. Put the wrapped onion ring on the baking sheet and continue until all the pancetta is used up.
Slightly warm the honey and lightly brush the pancetta wrapped rings, sprinkle over the paprika or chilli powder.
Bake in the oven for 12-15 minutes, until the pancetta is golden and crisp. Transfer to a paper towel to mop up any fat and serve.