This tasty and indulgent focaccia bread is perfect for sharing.
Orange & Rosemary Focaccia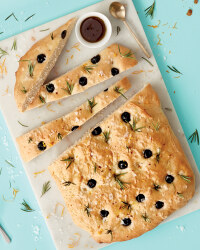 Recipe Information
Ingredients
250g Strong White Flour
7g Sachet Yeast
12g Squeezy Honey
1 x Orange
18 x Olives of your choice
1 tsp Genovese Pesto
180ml Olive Oil
1 tsp Salt
3 Cloves Garlic, peeled and chopped
5g Fresh Rosemary leaves, chopped
Sea Salt
Black Pepper
32 x 17cm Baking Tray
Method
Place the yeast and the honey in a bowl and add 80ml warm water.
Mix and allow to stand for 15 minutes for the yeast to work – it will start to look frothy.
Put the flour and a teaspoon of salt into a bowl and whisk.
Then add the yeast mix, 30ml olive oil and 100ml warm water.
Using your hands, mix to form a dough.
On a floured work surface knead the dough for 5 minutes until you have a smooth dough.
Put into a bowl, cover with cling film and allow to prove in a warm place for an hour, until it is doubled in size.
Lightly grease the tray, then press the dough into the tray.
With your finger, press 18 holes in the dough – put an olive into each indentation.
Grate the zest from the orange, mix with 70ml olive oil and the chopped garlic and rosemary.
Pre-heat the oven to 200°C/400°F/Gas Mark 6.
Brush this mix over the bread and put aside in a warm place for 30 minutes to prove.
Sprinkle the dough with sea salt and bake for 20-25 minutes.
Meanwhile, juice the orange, whisk with the pesto and the remaining oil, then season with black pepper.
Serve alongside the baked bread.