Why not try something different for breakfast? This filling and hearty recipe is perfect for an indulgent breakfast in bed.
Omega 3 Spicy Fried Eggs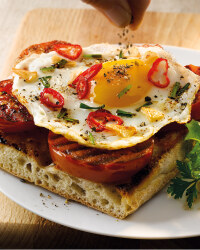 Recipe Information
Ingredients
4 Omega 3 Free Range Healy's Farm Eggs
2 ripe Plum Tomatoes
Olive Oil for cooking
4 slices of Ciabatta or other Rustic Bread
2 Garlic Cloves, thinly sliced
1 tbsp of Fresh Chives, chopped
½ tsp of Balsamic Vinegar
A little Salt
Freshly Ground Black Pepper
Method
Heat a heavy-based griddle pan. Thickly slice the plum tomatoes and then brush with a little olive oil. Add to the heated pan and cook for about 5 minutes until nicely marked. Transfer to a plate and keep warm. Brush the bread with a little more oil and toast on the same pan until nicely marked.
Meanwhile, heat a little olive oil in a large non stick frying pan and crack in the eggs. Scatter over the garlic (and chilli if using) and cook for a couple of minutes, spooning the hot oil over the egg yolks until they are cooked to your liking.
Place the griddled bread on warmed plates and quickly arrange the griddled tomatoes on top.
Scatter the chives into the egg pan and sprinkle over the balsamic vinegar. Season lightly, then slide the eggs on to the tomatoes and drizzle over any pan juices. Serve with the salad.
Tip:
Add 1 red chilli, thinly sliced into rings (optional).
Serve with lightly dressed baby leaf salad with herbs.