Enjoy this healthy vegetarian dinner recipe taken from RTE's Operation Transformation
Nutty Fried Rice with Satay Sauce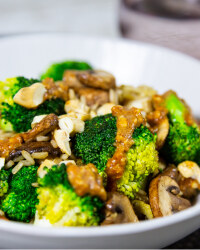 Recipe Information
Ingredients
80g wholegrain brown rice
1 tbsp reduced sodium soy sauce (15g)
1 tbsp peanut butter
1 tsp rice vinegar (5g)
1 tbsp water
1 tsp toasted sesame seeds (optional – 5g)
1 small head of broccoli
300g mushrooms (chestnut or ordinary)
25g unsalted cashew nuts
1 tbsp rapeseed oil (15g)
1 egg
freshly ground black pepper
Method
Rinse the rice well in a sieve and then put in a saucepan with 250ml of water. Bring to the boil, then reduce the heat and cover with a lid. Simmer for 15 minutes without lifting off the lid, then turn off the heat and leave to sit for another 10 minutes for perfectly cooked rice (or simply cook according to packet instructions). Spread out on to a tray and allow to cool to prevent further cooking or use leftover rice, which this type of recipe is perfect for.
To make the satay sauce, mix two teaspoons of the soy sauce in a small bowl with the peanut butter, vinegar, water and the sesame seeds, if using. Set aside until needed.
Break off the broccoli into florets and then cut into small bite-sized florets. Trim the mushrooms and cut into slices.
Heat a wok or large frying pan over a medium heat. Dry roast the cashew nuts, tossing regularly until evenly coloured. Tip on to the chopping board and once they have cooled down, roughly chop.
Add one teaspoon of the oil to the wok and swirl up the sides, then tip in the broccoli and mushrooms and stir-fry for 3-4 minutes until tender. Tip on to a plate and set aside.
Add the rest of the oil to the wok and again swirl up the sides. Tip in the cooked rice and stir-fry for a few minutes until piping hot. Break the egg into a bowl and lightly beat, then make a well in the centre of the heated rice and then tip in the egg. Leave for 20 seconds or so until it starts to set then begin to gently break up with a wooden spoon and toss until evenly combined. Season with pepper to taste.
Return the cooked vegetables to the wok with the cashew nuts and sprinkle over the remaining teaspoon of soy sauce, toss until evenly combined and season with pepper. Continue to cook until piping hot. Divide between bowls and drizzle over the satay sauce to serve.