Enjoy this healthy vegetarian dinner recipe taken from RTE's Operation Transformation
Mushroom Quesadilla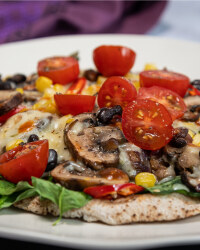 Recipe Information
Ingredients
300g mushrooms (chestnut or ordinary)
1 red onion
1 garlic clove
1 mild red chilli (optional)
8 small cherry tomatoes
70g Cheddar cheese
1 tbsp softened butter (15g)
pinch of dried oregano
2 wholemeal wraps
50g baby spinach leaves
50g tinned sweetcorn (or use frozen)
2 tbsp tinned black beans (drained and rinsed)
2 tsp barbecue sauce
sea salt and freshly ground black pepper
Method
Preheat the oven to 200C / 400F / gas mark 6. Trim and slice the mushrooms. Cut the red onion in half, then peel and finely chop. Peel and crush the garlic. Cut the chilli into thin rings, if using. Cut the cherry tomatoes in half. Grate the Cheddar cheese.
Heat a non-stick frying pan over a medium to high heat. Add the butter and then sauté the onion for a minute or two until softened. Stir in the garlic and cook for 20 seconds. Tip in mushrooms and add the oregano, then season with a little salt, if using and pepper to taste. Sauté for another 2-3 minutes until tender.
Arrange the wraps on a baking sheet and scatter over the spinach followed by the mushroom mixture, then sprinkle over the sweetcorn and black beans. Cover with the cheese and sprinkle over the chilli, if using. Place in the oven for 3-4 minutes until the cheese is beginning to melt and the bottom of the wraps are crisped up.
Transfer the mushroom quesadillas to plates and scatter the cherry tomatoes on top, then drizzle over the barbecue sauce to serve.