Great served with grilled steaks or chicken.
Mushroom Cream Sauce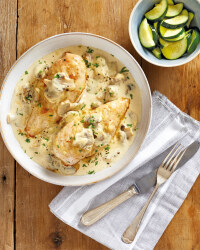 Recipe Information
Ingredients
100g Button Mushrooms
30g Butter
200ml Double Cream
1 Chicken Stock Cube
100ml boiling water
10ml Lemon Juice – approx. ½ Lemon
Sea Salt and White Pepper
Method
Dissolve the stock cube in the boiling water.
Wipe the mushrooms and slice thinly.
In a frying pan, melt the butter then sauté the mushrooms in the butter until just coloured.
Add the chicken stock, cream and lemon juice.
Season with a little salt and some white pepper, mix well and serve.