Spooky-looking mummified sausage rolls great for children's parties and spreads.
Mummified Sausage Rolls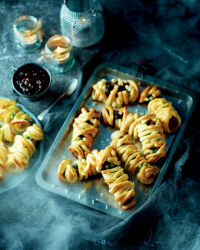 Recipe Information
Ingredients
454g Pork Sausages
1 sheet Puff Pastry
2 tbsp Caramelised Onion Chutney
2 of either Peas/Sweetcorn/Olives
1 Egg
Method
Pre-heat the oven to 180°C/350°F/Gas Mark 4.
Remove skin from the sausages and discard so just left with the meat.
On a large piece of cling film spread the sausage meat into a long sheet and flatten to 14cm width.
Spoon a thin column of the chutney along the middle of the sausage meat.
Seal the chutney in by bringing the sausage meat around on both sides using the cling film and press the meat together.
Freeze the sausage log for 10-15 minutes to make it easier to work with.
Remove the pastry from the fridge and cut into 1cm thick strips.
Lay the strips on a piece of baking parchment unevenly.
Place the sausage meat log onto the pastry strips.
Wrap the strips roughly around the sausage meat from top to bottom leaving a 4cm gap half the way down for the face.
Cut the log into 8 pieces.
Stud the two "eyes" into the face gap.
Put the sausage roll onto a baking sheet and brush with beaten egg.
Bake in the oven for 25-30 minutes.