Bored of your normal salads? Try this tasty Moroccan inspired turkey salad.
Moroccan Turkey Salad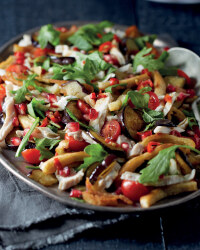 Recipe Information
Ingredients
500g shredded leftover turkey meat
1 Aubergine
250g Cherry Tomatoes
100g Rocket leaves
1 pot fresh Coriander
1 Red Chilli
50ml Olive Oil
½ teaspoon Ground Cumin
2 Pitta Breads
1 Pomegranate
Fresh Mint leaves
Salt and Black Pepper
Method
Firstly make the chilli sauce – chop the chilli very finely, add to 20ml olive oil along with the ground cumin then season with a little salt and some black pepper.
If you have a mortar, and pestle.
Grind the mixture together, otherwise mix well.
Chop the aubergine into bite size pieces then fry in the remaining olive oil until soft and coloured.
Cut the pitta bread into thin strips, add to the aubergine and cook till the bread is crisp – then add the chilli paste. Cut the cherry tomatoes in half.
Remove the seeds from the pomegranate.
Chop the coriander roughly.
Toss all the ingredients together and garnish with some torn mint leaves.