Enjoy this healthy dinner recipe taken from RTE's Operation Transformation
Moroccan Chicken & Butternut Squash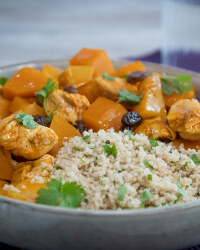 Recipe Information
Ingredients
1 leek
1 butternut squash
1 small turnip
2 skinless and boneless chicken fillets
2 tsp rapeseed oil (10g)
½ tsp ground cumin
½ tsp ground coriander
¼ tsp ground turmeric
1 tbsp tomato puree (15g)
350ml chicken stock
35g raisins
80g couscous
160ml boiling water
5g fresh coriander leaves
sea salt and freshly ground black pepper
Method
Trim and thinly slice the leek. Peel the butternut squash, then cut in half and remove the seeds. Cut into bite-sized pieces. Peel the turnip and cut into slightly larger pieces. Cut the chicken into chunks and place in a bowl.
Heat a frying pan with a lid over a medium to high heat. Add the oil and sauté the leek for 2-3 minutes until softened but not coloured. Stir in the spices and tomato puree and cook for another minute, stirring. Pour in the stock and bring to a simmer. Season with a little salt and pepper to taste.
Reduce the heat to low and stir in the butternut squash and turnip. Cover with a lid and simmer for 10-12 minutes until the vegetables are almost tender when pierced with a knife.
Remove the lid, then stir in the chicken and raisins to the vegetable mixture and then recover and simmer very gently for another 10 minutes until the sauce has slightly reduced and the chicken is piping hot with no pink meat and the juices run clear.
Put the couscous in a heatproof bowl and pour over the boiling water. Cover with clingfilm and set aside for at least 5 minutes until all of the water has been absorbed. Remove the clingfilm and fluff up the couscous with a fork. Finely chop half of the coriander and fold it into the couscous.
Divide the couscous between plates and spoon over the Moroccan chicken and butternut squash. Tear the remaining coriander on top to serve.