Incredible Mojito Prawn Tacos combining a spicy Mexican street food and a Cuban cocktail.
Mojito Prawn Tacos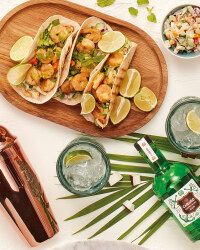 Recipe Information
Ingredients
2 x 200g packs of Specially Selected Frozen Jumbo Prawns (raw)
1 x pack 8 Mini Tortilla Wraps
1 x Lime
1 x tsp Smoked Paprika
40ml Olive Oil
50ml Old Hopking Spiced Gold Rum
8 x large Mint Leaves
1 x head Pak Choi
3 x Mini Peppers, approx. 80g
1 x Small Red Onion
3 x Baby Cucumbers
100g Piccolino Tomatoes
1 x clove of Garlic (crushed)
60g Mayonnaise
Method
Finely chop the peppers, cucumbers and tomatoes.
Peel and finely chop the red onion.
Mix all the above together in a bowl with the mayo.
Shred the pak choi and put to one side.
Griddle the tortillas on one side and roll up – allow to cool.
In a large frying pan or wok, heat the oil and add the frozen prawns and crushed garlic, sautéing for 15 minutes.
Grate the rind from the lime and add to the pan, along with the paprika, cook for a few minutes more, then add the rum and lime juice.
Thinly slice the mint leaves and sprinkle over.
Unroll the wraps and divide the pak choi, diced salad and the prawns between them and serve.