Strawberries and mint are a match made in heaven. Give this refreshing pea salad a go.
Minted Pea Salad with Irish Strawberries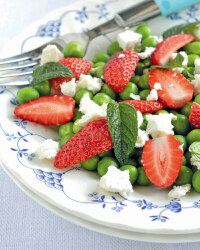 Recipe Information
Ingredients
500g Raw Sugarsnap Peas, trimmed
250g sliced Irish Strawberries (about 12 Irish Strawberries)
70g Feta Cheese, crumbled
130g Freshly Chopped Mint
Method
Combine the sugarsnap peas, Irish Strawberries, feta and mint in a large bowl.
Mix the vinegar, lemon, mustard, sugar and salt in a separate bowl. Whisk this until combined. Add the dressing to the other ingredients and toss gently.
Season to taste.