A summery take on a classic British dessert.
Mini Blackberry Bakewells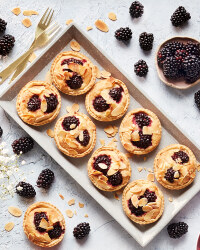 Recipe Information
Ingredients
375g pack Greenvale Ready Rolled Shortcrust Pastry
50g Greenvale Unsalted Butter, softened
50g The Pantry Caster Sugar
1 tbsp The Pantry Plain Flour
50g The Pantry Ground Almonds
1 Egg
125g Blackberries
10g The Pantry Flaked Almonds
Method
Pre-heat the oven to 180°C/350°F/Gas Mark 4.
Place the pre-rolled pastry onto a floured surface and roll it out until it is about 2mm thick.
Then, using a 7-8cm fluted edge cutter, stamp out 12 circles and place them into a 12 hole bun tin.
Next, cut a piece of baking paper just bigger than the bun tin and scrunch it up (this will make it easier to use) and cut it into 12 squares.
Place a square over each pastry and fill with baking beans.
Bake the pastry cases for 10 minutes then remove the baking beans and baking paper and place back in the oven for another 5 minutes until the pastry is cooked.
When removed from the oven, turn the oven up to 200°C/400°F/Gas Mark 6.
Next place the butter, sugar, egg, ground almonds and flour into a bowl and beat with an electric mixer until the mix is fully combined.
Using a teaspoon, divide the cake mixture between the pastry cases placing the blackberries on the top as you go.
Sprinkle the flaked almonds on top of the mini bakewells and bake for 10-15 minutes until the sponge is golden and cooked through.