Grilled corn brushed in a sour cream, smoked paprika, chillies and lime juice dip.
Mexican Street Corn on the Cob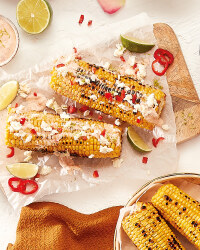 Recipe Information
Ingredients
4 Corn on the Cob
100g Sour Cream
100g Feta Cheese
2 Limes
10g Red Chilli, finely chopped
2 Garlic Cloves, peeled and minced
½ tsp Smoked Paprika
Black Pepper
Method
Griddle, grill or BBQ the corn for about 15 minutes, turning as you cook, until charred and cooked.
Grate the rind from one lime and juice it.
Pour the sour cream into a bowl with the rind, juice, smoked paprika, chillies and some black pepper, then mix well.
Once the corn is cooked, brush with the lime crema.
Sprinkle with feta cheese and serve with lime wedges on the side.