Mark Doe opened his cookery school, Just Cooking in 200. He shares his vegetarian quesadilla recipes.
Mark's Black Bean Quesadilla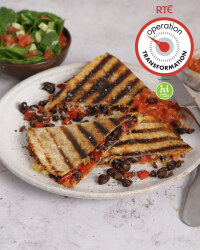 Recipe Information
Ingredients
½ small Red Onion
1 small Red Pepper
1 Garlic Clove
400g tin Black Beans (240g drained)
30g Cheddar Cheese
2 x large wholemeal Tortilla Wraps
4 x tbsp Salsa (60g)
1 tsp Fajita seasoning
1 tbsp Rapeseed oil (15g)
Side Salad, to serve
Method
Peel the red onion and finely chop. Remove the seeds and core from the pepper and finely dice. Peel and crush the garlic.
Drain the black beans in a sieve and rinse well under cold running water, then tip on to kitchen paper to take away any excess water. Finely grate the cheese on a plate.
Heat a frying pan over a medium heat and add one teaspoon of the oil. Sauté the red onion, pepper, garlic and fajita seasoning for 3-4 minutes until tender and picking up a bit of colour. Stir in the black beans until evenly combined.
Place the tortillas wraps on a chopping board and spread half a tablespoon of the salsa on one side. Place the black bean mixture on top followed by the grated cheese. Fold over to enclose the filling.
Heat a griddle pan over a medium heat. Add half the remaining oil and then add in one of the quesadillas. Cook for 2-3 minutes on each side until the quesadilla is golden and the filling inside is piping hot. Transfer to a chopping board and use the rest of the oil to cook the other quesadilla.
Cut each black bean quesadilla into three pieces and arrange on plates. Divide the rest of the salsa among two small dipping bowls and place alongside with separate bowls the salad to serve.