For a satisfying veggie feast that's packed with flavour try these marinated aubergine steaks with jewelled couscous.
Marinated Aubergine Steaks with Jewelled Couscous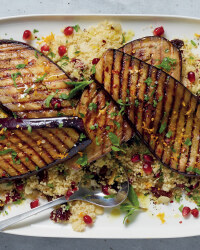 Recipe Information
Ingredients
Aubergine Steaks
1 Aubergine
4 tbsp Olive Oil
3 tbsp Balsamic Vinegar
2 Garlic Cloves (crushed)
½ tsp Salt
½ tsp Pepper
1 tsp Crushed Chilli Flakes
½ Lemon (zest)
Jewelled Couscous
250g Couscous
300ml Vegetable Stock (boiling)
50g Flaked Almonds
60g Dried Fruit (dried cranberries, raisins, sultanas, apricots)
80g Pomegranate seeds
Small handful of Flat Leaf Parsley
1 tbsp Freshly Chopped Mint
½ Lemon (juiced)
1 Orange (zest)
2 tbsps Olive Oil
Method
Slice the aubergine length ways into 1cm slices to create aubergine 'Steaks' (about 4 slices).
Mix the ingredients for the marinade and then cover the aubergine and leave marinate for 15 minutes.
In the mean time pour the boiling stock over the couscous and cover with cling film then leave for 5 minutes until the couscous is fluffy and has absorbed all the liquid.
Drizzle over the oil, lemon juice and then sprinkle the herbs, dried fruit, almonds and orange zest.
Stir until well combined and top with the pomegranate seeds and leave to one side.
When the aubergine has marinated heat a griddle pan and griddle the aubergine steak for 5 minutes on each side.
Serve the aubergine steaks with the couscous.