The sweetness of maple waffles perfectly balance with crispy streaky bacon for a lovely brunch.
Maple Waffles and Streaky Bacon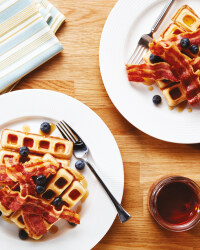 Recipe Information
Ingredients
1 pack Specially Selected Streaky Bacon
260g The Pantry Plain Flour
3 Large Eggs
400ml Milk
100ml Melted Butter
1 tbsp The Pantry Baking Powder
3 tbsp Specially Selected Maple Syrup (plus extra for serving)
1 tsp Salt
1 Waffle Machine
Method
In a bowl whisk together the flour, baking powder, maple syrup, salt, eggs, butter and milk until you have a smooth batter.
Grill the bacon for 5-6 minutes on each side until crispy.
Preheat the waffle machine and then ladle the mix into the wells and cook until golden brown.
Serve with the crispy bacon and an extra drizzle of maple syrup.