Restaurant owner, Mairead, shares her delicious, Pesto-Crusted Hake recipe.
Mairead's Pesto-Crusted Hake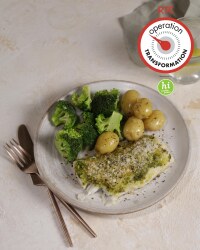 Recipe Information
Ingredients
1 large Head of Broccoli (400g)
250g Baby New Potatoes
2 x 200g Boneless Hake Fillets (skin on)
1 tbsp softened Butter (15g)
1 tbsp Basil Pesto
2 x tbsp Panko Breadcrumbs (12g)
Salt (optional) and freshly ground Black Pepper
Method
Preheat the oven to 190°C/375°F.
Break or cut the broccoli into even-sized florets – you need approximately 300g in total. Set aside until needed.
Place the potatoes in a steamer, then cover and cook for 15-20 minutes until cooked through and tender.
Meanwhile, place the hake fillets skin side down on squares of parchment paper in a baking tin – this makes them easier to lift out).
Lightly coat the surface of the hake with the butter and season lightly with salt (optional).
Gently spread over the basil pesto and cover with the panko breadcrumbs.
Bake for 10-12 minutes until just cooked through and tender.
To test the fish is cooked by gently trying to flake it with a small sharp knife – it should come away easily.
Add the broccoli on top of the potatoes for the last 3-4 minutes of the cooking time and allow them to just steam through but still retain a bit of bite.
Lift the pesto-crusted hake out of the baking tin and slide off the paper on to plates.
Add the steamed potatoes and broccoli to serve.