Cooking fanatic, Lorraine Dunne, shares her delicious Stir-fry recipe with a spicy noodle twist.
Lorraine's Minute Steak with Spicy Garlic Noodles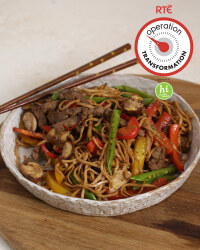 Recipe Information
Ingredients
250g Minute Steaks (thinly sliced)
1 tsp Worcestershire sauce (5g)
1 Red Pepper
1 Yellow Pepper
100g Button Mushrooms (chestnut or ordinary)
1 Garlic Clove
1 mild Red Chilli
100g Sugar Snap Peas
100g dried Whole-wheat Noodles
1 tbsp Rapeseed oil (15g)
1 tbsp reduced sodium Soy Sauce (15g)
Method
Cut the steak into strips and toss in a bowl with the Worcestershire sauce.
Remove the seeds from the red and yellow pepper and cut the flesh into thin slices.
Trim and cut the mushrooms into slices.
Trim the garlic and peel and finely slice the garlic.
Cut the chill in half and remove the seeds, then thinly slice. Cut the sugar snap peas in half.
Bring a pan of water to the boil over a medium heat.
Add the noodles and cook for 4 minutes until almost tender. Drain in a colander.
Heat a wok or large frying pan over a medium to high heat.
Add 1 teaspoon of rapeseed oil. Add the beef mixture and stir-fry for 1-2 minutes until sealed and no longer pink. Transfer to a plate.
Add another 2 teaspoons of rapeseed oil to the wok.
Stir-fry the peppers and mushrooms for 2-3 minutes until they are just beginning to pick up colour but are still crisp.
Toss in the chilli, garlic and sugar snap peas and sauté for another 30 seconds.
Add the noodles to the vegetable mixture with the steak and then sprinkle over the soy sauce and toss until evenly combined.
Add the steak and toss again until just heated through.
Divide the steak with spicy garlic noodles among bowls to serve.