Loaded Mac 'n' Cheese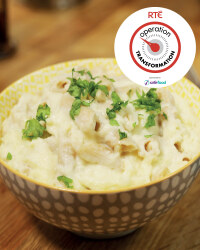 Recipe Information
Ingredients
½ Cauliflower, cut into florets
100g Wholewheat Pasta (any shape)
70g Cheddar Cheese, grated
Food Staples:
10g Flour
1 tsp Butter
200ml Semi Skimmed Milk
Parsley, chopped (optional garnish)
Method
Place pasta in a pot of boiling water and simmer until cooked for approx. 8-10 minutes.
Steam cauliflower for 5-7 minutes.
When cauliflower is cooked, place in a bowl and blend using a hand blender.
Add butter to a saucepan and allow to melt.
Add in flour and stir well.
Gradually add the milk to the saucepan stirring continually.
Stir the grated cheese into the sauce and mix until sauce thickens.
Add the puréed cauliflower and cooked pasta to the sauce and mix together.
Garnish with a handful of parsley and serve.