Grilled pitta bread pizzas topped with houmous, pepper, cucumber and radish.
Loaded Houmous Pitta Breads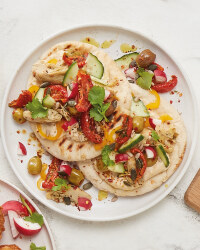 Recipe Information
Ingredients
4 x Mediterranean Style Pittas
2 x 200g tubs Houmous
40g The Deli Marinated Tomatoes with Garlic and Oregano
40g The Deli Chargrilled Artichokes
40g The Deli Chilli and Garlic Marinated Olives
40g Radish
1 x Yellow Mini Pepper
40g Pumpkin Seeds
40g Sunflower Seeds
40g Fresh Cucumber
Fresh Coriander
Method
Chargrill the pitta breads.
Spread the houmous over the pitta breads.
Slice the pepper thinly. Dice the cucumber and radish.
Share the toppings between the pittas.