Impress your friends with homemade Christmas gifts. Make our boozy gin marmalade, a festive twist on this classic jam. Perfect for the buffet.
Lime & Gin Marmalade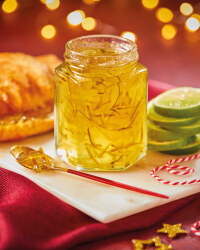 Recipe Information
Ingredients
350g Limes
1 Lemon
700g White Sugar
35ml Gin
600ml Water
Method
Peel the zest from the limes and lemon and cut into long, thin strips.
Strain the juice into the pan, retaining the flesh and the pips.
Put the flesh, pips and any pith into a muslin bag.
Place in a pan along with the juice and zest.
Add the water and bring to the boil, then simmer for an hour.
Remove the pan from the heat and carefully squeeze all the juices out of the bag, then remove it from the pan.
Add the sugar and return the pan to the heat, stirring until the sugar has fully dissolved.
Bring to the boil and leave the mixture to bubble until it reaches approx. 105°C.
Remove from the heat, leave to cool, then pour in the gin.
Decant into 1 large/2 small jars.
Store in a cool, dark place and consume within 6 months.