Introduce some flavour with this easy to prepare marinade.
Lemon & Thyme Chicken Marinade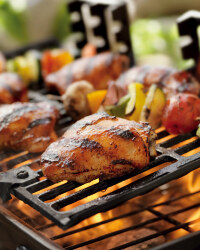 Recipe Information
Ingredients
8-10 Pack Chicken Drumsticks, slashed
1 Lemon, juice and zest
3 tbsp Thyme, chopped finely
2 tbsp White Wine Vinegar (or other White Vinegar)
1 tsp Demerara Sugar
6 tbsp Vegetable Oil
4 Garlic Cloves, chopped finely
1 tbsp Black Pepper
Method
Mix all ingredients together and marinate chicken for 2 hours.
Cook on a barbecue for about 15 minutes.