Succulent lamb steaks on a bed of tomatoes and roasted chickpeas.
Lamb Steaks with Roast Chickpeas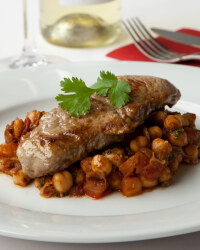 Recipe Information
Ingredients
2 tbsp olive oil
2 x 400g cans chickpeas, rinsed and drained
4 plum tomatoes, quartered
1 tbsp sunflower oil
4 x 170g lamb leg steaks
1 tbsp tomato puree
1½ tbsp balsamic vinegar
50g coriander leaves chopped
Salt and pepper
Method
Heat the oven to 190°C/375°F/Gas Mark 5.
In a large roasting pan heat the olive oil, stir in the chickpeas and tomatoes and place in the preheated oven for 5 minutes.
Meanwhile heat the sunflower oil in a frying pan, season the lamb steaks and brown on both sides.
Remove the tomatoes and peas from the oven and stir in the tomato purée and balsamic vinegar.
Lay the lamb steaks and any juices from the frying pan on top and cook for a further 5 minutes.
Remove the lamb from the roasting pan and stir in the chopped coriander and serve.