This recipe is perfect for using left over lamb from your Sunday Roast. Who doesn't love a curry?
Lamb & Chickpea Korma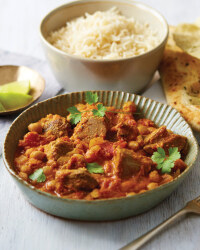 Recipe Information
Ingredients
300g Leftover Lamb, cubed
1 large Red Onion
400g tin Chopped Tomatoes with Herbs
400g tin Chickpeas
35ml Sunflower Oil
1 tsp each Garlic Granules, Chilli Powder, Paprika, Turmeric, Ground Cumin, Ginger and Crushed Chillies
500g pot Fat Free Natural Yogurt
1 dsp Tomato Purée
20ml Lemon Juice
50g Ground Almonds
1 Chicken Stock Cube
Sea Salt
Black Pepper
Method
Peel and chop the onion.
Heat the oil in a large saucepan, add the onion and all the spices.
Cook, stirring for about 3 minutes, to allow the flavour from the spices to evolve.
Add the tinned tomato, tomato purée, lemon juice and crumble in the stock cube.
Drain the chickpeas and add to the pan along with the yogurt.
Season with plenty of black pepper and a little salt.
Cook for 10 minutes, then add the lamb and the ground almonds, cook for another 10 minutes and serve.
Great with Bilash basmati rice, poppadums and naan bread.