This Kutchan Bowl should really kutch on! Made with succulent salmon, it's simple to make in less than 15 minutes!
Kutchan Bowl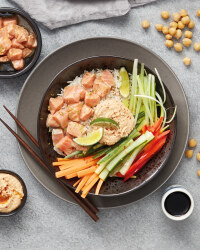 Recipe Information
Ingredients
240g Salmon Fillets
30ml Light Soy Sauce
1 x Lime
15ml Rapeseed Oil
2 x 200g Sweet Chilli Houmous
140g Basmati Rice
1 x Cucumber
1 x pack 2 Red Pointed Peppers
8 x Spring Onions
2 x large Carrots
60g Dry Roasted Peanuts
6g fresh Coriander, chopped
Method
Remove any skin from the salmon fillets and cut the salmon into small cubes. Grate half the lime, then juice. Put the salmon in a glass bowl with the lime juice and rind, add the soy sauce and the rapeseed oil and mix well. Cover and put in the fridge for 90 minutes to marinate.
Cook the rice as per instructions on the pack and allow to cool. Peel the carrots and cut into thin strips. Cut the cucumber into thin strips. Wipe and trim the spring onions and cut into thin strips. Cut the peppers into thin strips – discard any with pith and seeds. Finely chop the peanuts.
Divide the carrots, cucumber, spring onions, red pepper, rice and houmous between 4 bowls. Then divide the salmon and the marinade between the dishes. Sprinkle over the chopped peanuts and coriander and serve.