Try this superfood salad and you'll see why kale is such a hit!
Kale Salad for Two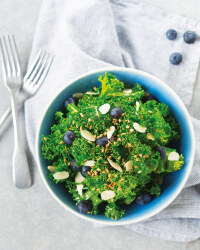 Recipe Information
Ingredients
About 10 large Kale Leaves
tbsp Olive Oil
For the dressing:
2 tbsp Olive Oil
tbsp Honey
tbsp Lemon Juice
Pinch of Salt and Pepper
To serve:
2 handfuls of Blueberries
2 tbsp Flaked Almonds
2 tbsp Crunchy Linseed with Cranberry and Almonds
Method
Pull the kale leaves from the stalks. Use a knife to cut into smaller, bite-sized pieces. Place in a large bowl and pour in the olive oil. Use your hands to mix the oil into the kale for a few minutes.
Make the dressing by mixing together the oil, honey and lemon juice. Add a pinch of salt and pepper.
Divide the kale between two bowls. Top each with a handful of blueberries and flaked almonds. Sprinkle the Crunchy Linseed with Cranberry and Almonds on top of the salad and serve.