Deliciously light Parma ham, boiled potatoes and a creamy sauce make this delightful salad.
Jersey Royal & Parma Ham Salad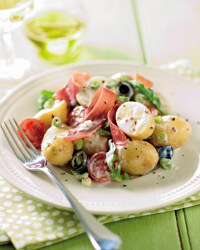 Recipe Information
Ingredients
450g Jersey Royal Potatoes
90g pack Specially Selected Parma Ham
200g Cherry Tomatoes
1 bunch Spring Onions
70g bag Freshleaf Rocket Leaves
2 Cloves Garlic
50g Cucina Black Olives
150ml Cowbelle Soured Cream
1 tsp Bramwells Mustard
15ml The Pantry Lemon Juice
40ml Solesta Olive Oil
Black Pepper and Salt
Method
Put the Jersey royal potatoes into a medium saucepan, cover with cold water, season with some salt and add the garlic cloves (no need to peel).
Bring to the boil, cover and simmer for 10-12 minutes until tender.
Drain well, discard the garlic cloves and, if the potatoes are large, cut in half.
Meanwhile, trim and wash the spring onions, chop into rings and put into a large salad bowl.
Cut the tomatoes and the black olives in half and add to the bowl with the tomatoes.
When the potatoes are cooked, add to the salad bowl while they are still warm.
To make the dressing, mix the lemon juice with the soured cream, olive oil and mustard.
Season with plenty of black pepper and a little salt, then mix this into the salad.
Tear, or cut, the Parma ham into strips, add this and the rocket leaves to the salad.
Gently mix together and serve.