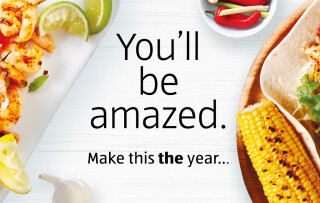 It's a brand-new year and a great new chance to make some changes to your life
We know you've heard it all before but we're making sure this year will be different. We'll be there at every turn, helping you get healthy, save money, and learn new skills. Don't put it off a moment longer. You'll find everything you need to kick start your 2018 below.
Start the New Year in the right way
Make the most of the days to come with our helpful goal planning guides. Whatever you want to focus on, take a look at our tips, set your goals, and smash them all. Let's get going.
Sweating is great, but it's not enough, especially if your diet is all wrong. Find out how to really feel the benefits of your new lifestyle with some delicious healthy family recipes and clever leftover ideas. We've also got amazing vegan recipes too, and smart ways to exercise in your home. No excuses.