Tasty Italian pastry treats. Ideal for starters, sharing and snacking.
Italian Puff Pastry Tarts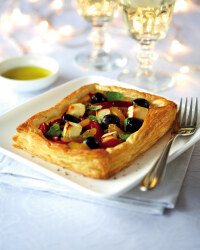 Recipe Information
Ingredients
1 packet Ready Rolled Puff Pastry
375g Black Pitted Olives
230g Cheese Cubes in Oil
200g Cucina Green Pesto
40g Cucina Antipasti
280g Grilled Peppers
Method
Pre-heat the oven to 200°C/400°F/Gas Mark 6.
Unroll the pastry and divide into 4 equal slices.
Put them onto a large baking sheet.
With a sharp knife, score a 2cm border around the edge of each slice.
Spread the pesto over the pastry up to the border on all 4 slices.
Drain the peppers and cut into slices, divide them between the slices.
Drain the cheese and divide the cubes and bits of pepper between the slices.
Put 6 black olives on each slice.
Brush a little milk onto the pastry border, bake for 15-20 minutes until risen and browned.