Yes, you do really knead this extra special Italian Easter bread in your life. Complete with coloured eggs and sprinkles.
Italian Easter Bread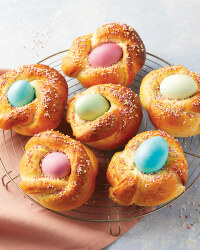 Recipe Information
Ingredients
2 Eggs (Beaten)
160ml Milk
30g Butter
70g Sugar
450g Strong Flour
1 ½ tsp. Dried Fast Action Yeast
1 Beaten Egg (for egg wash)
Salt
To Decorate:
6 Eggs
1 tsp. Blue Food Colouring
2 tbsp. Green Food Colouring
1 tbsp. Pink Food Colouring
3 tbsp. White Wine Vinegar
3 cups of Warm Water
Sprinkles
Method
Gently heat the milk, sugar and butter until the butter has melted.
Leave to cool until just warm and add the yeast.
Place the milk mixture, beaten eggs, flour and salt into a stand mixer fitted with a dough hook and gradually mix until you have a smooth and pliable dough which bounces back when pressed (if you don't have a mixer this can be combined and kneaded by hand).
Leave to rise until doubled in size (1-2 hours at room temperature).
While the dough rises add 1 tbsp. of vinegar into each cup of water along with the food colouring into each.
Then add the eggs and leave to soak in the colour for 5 minutes.
When coloured leave them to dry on a cooling rack.
When the dough has risen cut into 6 equal pieces and then roll each to about 20cm long.
Twist the dough and form into a ring then place a coloured egg into the middle of each.
Leave to rise for another hour.