Enjoy this healthy snack taken from RTE's Operation Transformation.
Hummus With Veggies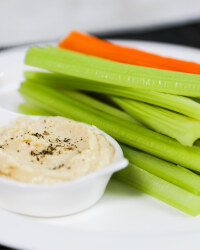 Recipe Information
Ingredients
100g Carrots
2 Celery Sticks
2 tbsp Reduced-Fat Hummus
Method
Peel the carrots and then using a sharp knife, cut into even-sized batons or, if using baby ones, just give a light scrub under cold running water.
Trim down the celery sticks and cut into similar sized batons.
Arrange the prepared vegetables on a plate with a small pot of the hummus alongside to serve, or put them in an airtight container with a small pot of the hummus tucked in alongside.