Perfect for a quick snack that is tasty and filling.
Hot Ham & Tomato Crumpets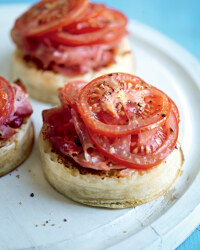 Recipe Information
Ingredients
4 Crumpets
4 tsp Tomato Purée
8 slices Wafer Thin Cooked Ham
4 Large Vine Tomatoes, thinly sliced
Method
Pre-heat the grill and lightly toast the crumpets on both sides.
Spread each crumpet with 1 teaspoon of tomato purée, then top with two slices of wafer-thin ham.
Arrange the sliced tomatoes on top. Grill for 2-3 minutes. Serve at once.
Tip 1
Use Wholemeal & Oat Bagels instead of crumpets – you'll need only 2, sliced in half.
Tip 2
Sprinkle a few mixed dried herbs over the tomato purée before adding the ham, if you like.