These beautiful hot crossed scones can be whipped up in just 15 minutes.
Hot Crossed Scones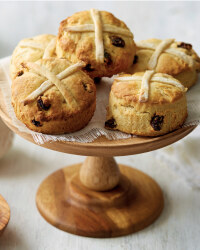 Recipe Information
Ingredients
300g Self Raising Flour
65g Icing Sugar
95g Unsalted Butter
55g Sultanas or Currants, or a mix of both
125ml Milk, plus extra to glaze
For the cross
50g Plain Flour
30ml Milk
1 x 65mm round cutter
Method
Pre-heat the oven to 220°C/425°F/Gas Mark 7.
Sift together the flour and icing sugar in a large bowl.
Cut the butter into small pieces and rub into the flour mix, until it resembles breadcrumbs.
Add the sultanas or currants.
Make a well in the centre and add the milk to the mix, mixing as you pour.
Turn the dough onto a floured work surface and lightly roll out to 2cm thick.
Cut out 10 scones with the cutter, then put onto a greased baking tray.
Mix the plain flour with the milk, roll out thinly and cut into ½ cm strips.
Put a cross on the top of each scone, brush with some milk.
Bake in the oven for 10-12 mins, until slightly risen and golden brown.
Serving Suggestions:
Toasted and served spread with butter and jam.
Served alongside Irish cheddar cheese.
Great to use when making a bread and butter pudding instead of bread.
Serve as a sandwich - buttered and filled with thinly sliced ham and cheese.