Combine chicken with our scrumptious hot cross buns for the ultimate Easter indulgence.
Hot Cross Stuffed Chicken Breasts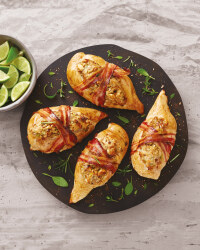 Recipe Information
Ingredients
4 Chicken Breasts
2 Hot Cross Buns
20g Cashew Nuts
1 Ripe Pear
1 Spring Onion
10ml Lemon Juice
8 slices of Unsmoked Streaky Bacon
Method
Pre-heat the oven to 200°C/400°F/Gas Mark 6.
Wash the spring onion and slice thinly.
Core the pear and chop.
Break up the hot cross buns and place them in a food processor along with the spring onions, cashew nuts, pear and lemon juice and process to a thick stuffing.
Place stuffing in a bowl and divide into 4.
Slice the top of each chicken breast and fill with a portion of stuffing.
Criss-cross 2 slices of the bacon over the top of the stuffing.
Put the chicken breasts onto a baking sheet and roast in the oven for 30 minutes.
Serve with a slice of lime to squeeze on top for extra flavour.