There is nothing more refreshing on a hot day than this cool tangy lemonade.
Homemade Lemonade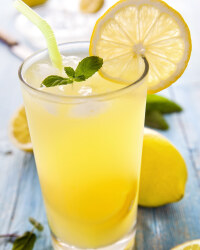 Recipe Information
Ingredients
4 large Lemons
1 litre Still Water
100g Caster Sugar
To Serve:
Ice Sprigs of Fresh Mint
Method
Peel the lemons; make sure you leave the white pith on the lemon.
Chop up the peel roughly. Juice the lemons.
Put the lemon juice, chopped up lemon rind, water and caster sugar into a saucepan.
Slowly bring to the boil and simmer for 10 minutes.
Allow to cool. Once cooled, sieve out the lemon peel and refrigerate.
Serve with plenty of ice and sprigs of fresh mint.