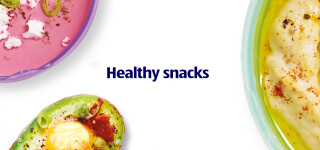 The best healthy snacks are those that are easy to make and taste great! Snack smarter with our nutrient-packed healthy snack ideas. We've got recipes to suit all diets and taste buds, from sweet to savoury.
Pre-heat the grill and line a baking tray with tin foil.
Carefully slice the avocado in half and scoop out the stone.
Crack 1 small egg into the middle and sprinkle chives over. If you prefer add a sprinkling of chopped smoked salmon or bacon. Sprinkle chives and season to taste.
Place on the baking tray and place under the grill for 5-6 minutes until the egg looks cooked.
Steam the mangetout for 2-5 minutes until tender.
Take off the heat and transfer into a bowl.
Add the soy sauce, salt and lime.
Once cooled, transfer to your snack pot.
Winter Warming Seed Mix

Leftover Falafel Balls

Fresh Fruit
2 bags of Nuts/ Nut Mix • ½ tsp Nutmeg • ½ tsp Cinnamon • 1 tsp Honey • 1 tsp Coconut oil
Pre-heat the oven to 180°C/350°F.
Mix all the ingredients together in a bowl and sprinkle on a baking tray. Cook for 5 minutes so the spices infuse into the nut mix. Store in your snack box ready to consume on the go!
2 tbsp Olive Oil • 1 small Onion, finely chopped • 1 Garlic Glove, crushed • 1 tin Chickpeas • 2 tsp Ground Cumin • 1 tsp Mixed Herbs • 1 Lemon, zest grated • Salt and Black Pepper • 1 Egg, beaten • Add in any leftover raw Carrots, Courgettes or Greens
Pre-heat the oven to 180°C/350°F.
Add a layer of tin foil to a baking tray. Add all the ingredients into a blender or food processor and pulse until a soft crumb forms. Add a small handful into the palm of your hand and mould into a ball or small oval. Add to a baking tray and cook through for 10 minutes. Alternatively fry in coconut oil each side for 4-5 minutes.
There is nothing simpler than preparing fresh fruit as a healthy snack to have on the go. To keep it extra -fresh squeeze a little lemon juice over. The acidity slows down the browning process of the fruit.
It's hard to know where to begin when it comes to eating healthily. But these 3 recipes are the ones we'd recommend first. They're nutritious, delicious and cover all your main meal times.