These blueberry muffins make a tasty breakfast for all the family. An instant favourite.
Healthy Breakfast Muffins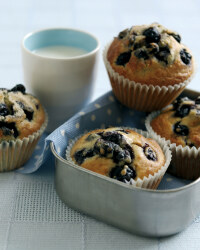 Recipe Information
Ingredients
2 medium eggs
170mls milk
100mls olive oil
270g self raising flour
70g caster sugar
pinch salt
250g frozen Aldi blueberries
3-4 tbsp brown sugar, optional
Method
Pre heat the oven to 200°C, gas 6.
Mix together the eggs, milk and the oil.
In a separate bowl mix the flour, sugar and salt.
Mix the wet ingredients with the blueberries.
Then add dry ingredients lightly.
Spoon into 12 muffin cases, and sprinkle with the brown sugar.
Bake for 20-25 minutes, or until well risen and lightly coloured.
Cool, then eat.
Tips:
Try other Aldi frozen fruits they will work in these muffins.
The less you stir the mixture together, the lighter the end muffin will be.
Very easy recipe, even the kids can help.
Nice served with Aldi yogurts like lemon curd.
These will freeze well.