Tasty tear and share garlic bread with soft cheese, parmesan and garlic.
Hassleback Cheesy Herb Bread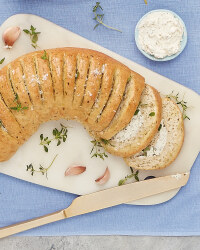 Recipe Information
Ingredients
For the Bread
250g Strong White Flour
7g Sachet Yeast
12g Squeezy Honey
1 tsp Genovese Pesto
180ml Olive Oil
1 tsp Salt
4 Cloves Garlic, peeled and chopped
5g Fresh Rosemary leaves, chopped
Sea Salt
Black Pepper
32 x 17cm Baking Tray
20g Parmesan Cheese, grated
310ml Warm Water
2tbs Olive Oil
For the filling
200g Soft Cheese
15g Parmesan Cheese
1 Garlic Clove, peeled and crushed
1 tsp Mixed Herbs
For the glaze
2 tbs Olive Oil
Method
Place the yeast and the honey in a bowl and add 80ml warm water.
Mix and allow to stand for 15 minutes for the yeast to work – it will start to look frothy.
Put the flour and a teaspoon of salt into a bowl with the parmesan cheese and whisk.
Then add the yeast mix, 30ml olive oil and 100ml warm water.
Using your hands, mix to form a dough.
On a floured work surface knead the dough for 5 minutes until you have a smooth dough.
Put into a bowl, cover with cling film and allow to prove in a warm place for an hour, until it is doubled in size.
Roll the dough out, on a lightly oiled surface, in to a rectangle, approx. 25 x 35cm.
Combine the cream cheese, garlic, Parmesan and mixed herbs and spread over the dough.
Roll the dough up like a Swiss roll, then place onto a greased and lined baking tray, forming a horseshoe shape.
With a sharp knife, create indents all along the dough to create the Hassleback effect.
Set aside to prove in a warm place for 30-35 minutes until the dough has doubled in size (recreate the Hassleback effect, if necessary).
Brush with half of the olive oil.
Pre-heat the oven to 200°C/Gas Mark 7.
Bake the Hassleback bread for about 20 minutes until golden brown and cooked, then drizzle over the remaining olive oil.
Cut into wedges and serve warm or cold.