Grilled Salmon & Wholegrain Buddha Bowl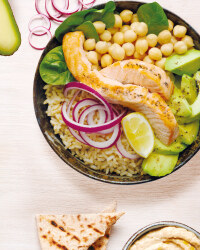 Recipe Information
Ingredients
240g pack Salmon Fillets
220g sachet Wholegrain Rice with Quinoa
150g Chickpeas, drained
2 Avocados
120g Baby Spinach Leaves
1 Medium Red Onion
8g Chia Seeds
1 Lemon, cut into quarters
Method
Cut the salmon fillets in half lengthways and grill for 4 minutes.
Cook the rice as per the instructions on the pack.
Peel and slice the red onion.
Halve the avocados, remove the stones, scoop out the flesh with a spoon and slice.
Squeeze half the lemon over the slices to stop them from going brown.
Put the spinach leaves on the base and the sides of your bowl. Then top with sections of rice, avocado slices and chickpeas.
Top with the 2 salmon fillets and the red onion slices. Sprinkle with the seeds, garnish with the lemon and serve.