Tasty grilled pork chops alongside a caramelized apple garnish.
Grilled Pork Chops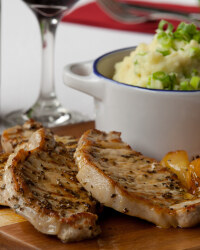 Recipe Information
Ingredients
4 x 170g pork chops
Oil, for brushing Pinch of dried sage
Freshly ground black pepper
For the caramelized apples
2 eating apples
Little butter for frying
1 tsp sugar
For Champ Potato
7 unpeeled potatoes
110g spring onion
350ml milk
70g butter
Salt and white pepper
Method
Wash the potatoes and boil them in their jackets.
Finely chop the spring onion and put into a pot with the milk, simmer for 3 – 4 minutes and leave the onion to infuse.
Peel the cooked potato and mash while still hot add the milk, spring onions and butter and season for taste.
Heat the grill to its highest setting.
Make a short cut through the fat of the pork chop and brush with oil and sprinkle with the dried sage and season. Place under the grill for 5 – 7 minutes on each side. Cut the apples into eights and remove the core.
Melt a knob of butter in a frying pan and when it is foaming, add the apples.
Sprinkle with the sugar and fry lightly on both sides until golden brown but not mushy.
The sugar will caramelise, giving a toffee – like coating to the apples
Arrange the pork chops on a large serving platter with the apples as garnish and serve the champ in a bowl to share with family and friends.