Tasty salsa made with cherry tomatoes, grilled corn, coriander, red chilli and avocado.
Grilled Corn Salsa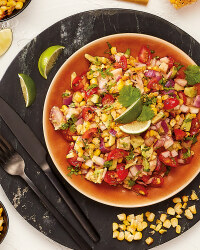 Recipe Information
Ingredients
2 x fresh Corn on the Cob
10g fresh Red Chilli
1 x small Red Onion
150g Cherry Tomatoes
1 x large ripe Avocado
10g fresh Coriander
50ml Olive Oil Infused with Garlic
1 x Lime 1 x tsp Smoked Paprika
Sea Salt and Black Pepper
Method
Grill, griddle or barbecue the corn for 15 minutes, turning as you cook until charred and cooked. Allow to cool then, with a sharp knife, cut the kernels off the husk.
Finely chop the cherry tomatoes. Chop the coriander. Finely dice the chilli. Peel and finely chop the red onion. Grate and juice the lime.
Cut the avocado in half, remove the stone, scoop out the flesh and chop finely. Put into a large bowl, pour over the lime juice and rind, then gently stir through. Add the rest of the ingredients to the avocado, season with a little salt and pepper and mix through.
Great served with grilled chicken or as part of a vegan meal.