This is a great starter or appetiser when holding a meal for friends and family. It's sure to start off your meal in style.
Griddled Asparagus with Almonds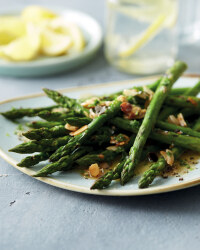 Recipe Information
Ingredients
3 x 100g packs Asparagus Tips
1 tbsp Olive Oil
40g Salted Butter
2 tbsp Flaked Almonds
2 tbsp freshly chopped Parsley
Black Pepper
Method
Pre-heat a griddle or grill to medium.
Toss the asparagus in the oil and griddle or grill until just tender.
Meanwhile, melt the butter in a frying pan and, as it starts to bubble, add the flaked almonds.
Cook until just starting to brown.
Add the parsley and some black pepper and pour over the cooked asparagus.