Greek - style meatballs in a tangy tomato sauce and refreshing mint yogurt.
Greek Style Meatballs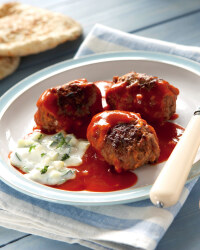 Recipe Information
Ingredients
2 slices Toast (broken into pieces)
1 tbs Oregano
1 tbs Paprika
1 tbs Salt
1 tbs Pepper
6 cloves Garlic, finely chopped
450g Irish Angus Steak Mince
Flour (to coat)
Glass of White Wine
1 x 500ml Passata
½ Beef Stock Cube
200ml Water
Mint Yogurt
100ml Plain Yogurt
½ Courgette, seeded and finely diced
Squeeze of Lemon Juice
2 tbs Chopped Mint
Method
Put the broken toast into a food processor and make into crumbs.
Add to your processor the Angus steak mince, half of the garlic, oregano, paprika, salt and pepper and blend briefly.
Roll the mince mixture into meatballs (x 10).
Coat with the flour then fry (in olive oil) for 5 minutes, turning once.
Turn the heat up to full and add the remaining garlic plus the wine.
Boil for 5 minutes.
Add the passata, water and stock cube.
Cook for another 10 minutes.
Serve with a spoonful of mint yogurt and warm pitta bread.