Easy-to-make Greek salad with chopped avocado and homemade dressing.
Greek Avocado Salad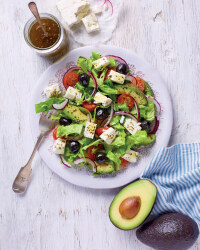 Recipe Information
Ingredients
2 x 2 packs Ripe and Ready Avocados
1 Lettuce
200g Feta Cheese
1 large Red Onion
250g Cherry Tomatoes
60g Black Pitted Olives
Dressing
Juice of 1 Lemon
70ml Olive Oil
1 tsp Dried Basil
Sea Salt and Black Pepper
Method
First make the dressing.
Mix together the olive oil, lemon juice and basil.
Season with some salt and black pepper and whisk.
Cut the avocados in half.
Remove the stones and, with a spoon, scoop out the flesh.
Thinly slice the avocadoes and put into a shallow bowl.
Pour over the dressing to stop the avocados from discolouring.
Slice the lettuce and put into a large salad bowl.
Cut the tomatoes in half and add to the lettuce.
Cut the onion in half, peel and thinly slice and add to the bowl.
Drain any liquid from the cheese and cut into small chunks, then add to the salad.
Add the olives to the bowl and mix together.
Gently fold in the avocado slices with the dressing and serve.