The combination of beautifully strong goats cheese and the sharpness of vinaigrette make this salad number one!
Goat's Cheese Salad & Vinaigrette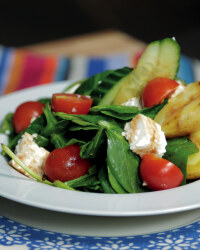 Recipe Information
Ingredients
100g Goat's Cheese/Feta Cheese
200g Baby Spinach Leaves
1 Cucumber, chopped
100g Cherry Tomatoes
250g Baby Potatoes, peeled and chopped in quarters
3 tbsp Olive Oil
1 ½ tbsp Balsamic Vinegar
1 tsp Wholegrain Mustard
1 tsp Honey
1 clove Garlic, peeled and chopped
Method
Place potatoes into a large pot of water, bring to the boil and simmer over medium heat for 10-15 minutes until soft.
Place spinach leaves, tomatoes and cucumber in a large mixing bowl and mix together.
Cut the cheese into chunks and add into salad mix.
Place oil, balsamic vinegar, wholegrain mustard, honey and garlic into a jar and shake together.
When potatoes are cooked add into the spinach mix.
Sprinkle salad with vinaigrette and serve.