Perfect for a light lunch or a quick tea on the go.
Goat's Cheese & Vegetable Wraps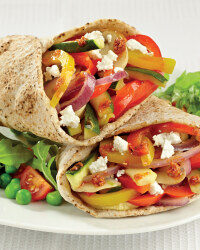 Recipe Information
Ingredients
200g red onions, peeled and thinly sliced
200g courgettes, cut in thin strips
200g mushrooms, thinly sliced
1 red pepper, thinly sliced
1 yellow pepper, thinly sliced
200g goats' cheese
2 tbsp red or green pesto
8 low calorie
Wholemeal tortillas
Freshly ground black pepper
1 tbsp olive oil
Method
Heat oil in a wok or a large non-stick pan.
Place all vegetables in it and stir-fry for five minutes on a high heat.
Once the vegetables are softened, season with pesto and black pepper and stir well to combine.
Move your pan off the stove and crumble goats' cheese into the vegetable mixture.
Cover to keep warm.
Combine all your salad ingredients in a bowl.
Warm the tortillas for a minute in a hot dry pan or in the microwave.
Fill the warm tortillas with the goats' cheese mixture.
Serve with the salad.