Try this yummy gluten free dish, with fresh prawns and a white wine sauce.
Gluten Free Pasta & Prawns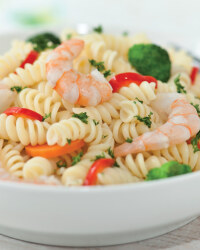 Recipe Information
Ingredients
250g Has No Gluten Free Fusilli
1 pack Fresh Tomatoes
250g Fresh Prawns
1 Medium Onion
1 Broccoli
1 Pepper
200g Mushrooms
30ml Sunflower Oil
100ml White Wine (optional)
Method
De-skin the tomatoes and thinly slice the mushrooms.
Cook the pasta as per instructions and set aside.
Cut the onion and the pepper into small pieces.
Soften in a hot pan with oil.
Stir in the chopped tomatoes, season and add prawns.
Pour in the white wine, add broccoli and mushrooms simmering for 5 minutes before adding the boiled pasta
Serve:
Add a pinch of salt and pepper, fresh basil leaves, garlic, bay leaf or a pinch of chilli if you like